Perfect Female Eyebrow Hair Remover Device!
The Eyebrow Trimmer is Perfect for removing your unwanted eyebrow in daily life. And It is one of the best choices as a gift to your lady, girl or Mom.
Our innovative hypoallergenic hair remover uses precision micro-blade technology to remove even the tiniest of hairs on the face and body without any pain or redness, leaving your skin feeling incredibly smooth. This discreet and stylish hair remover is a new alternative to waxing that doesn't irritate your skin. Your new best kept secret on maintaining perfect eyebrows!
Feature:
Precise and still 

- Precise tip helps remove unwanted hair, targets the smallest areas to help you maintain perfect eyebrows. You no longer need tweezers!
Painless and comfortable

 

- Specially designed for flawless eyebrows to end the touch. Instantly and painlessly remove unwanted and stray eyebrows, without irritation, blemishes, cuts, bumps or redness.
Stylish and easy to carry

 

- With the size of a lipstick, this product provides optimal hair removal at all times for women who have no time to go to the salon again and again. Very ideal for traveling. 
Built-in light - The LED lights clearly show the smallest hair and ensure complete trimming.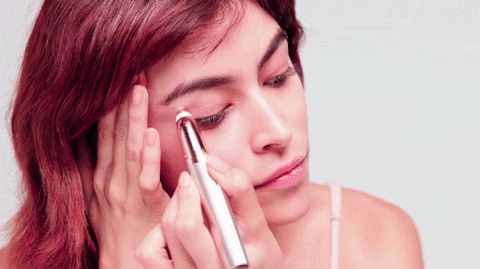 Multi-functional 

- 

This eyebrow hair remover can be used not only for your eyebrow, but also can be used for your face, lip, chin, nose and so on.
USB Rechargable 

- 

Built-in lithium battery, can be charged using the Android charging cable.
EASY TO USE:
Package: